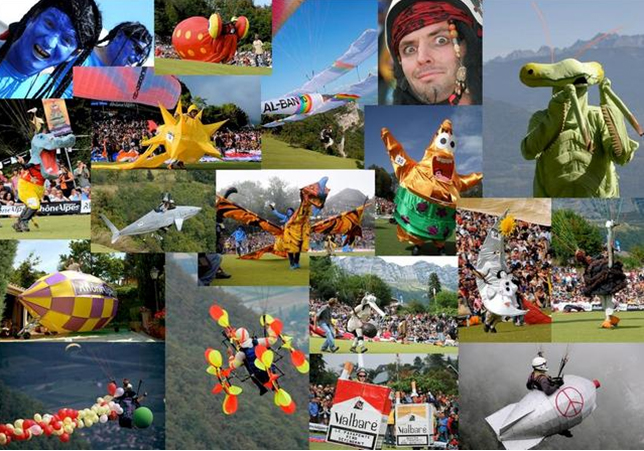 Fantastic Fly-In
(Paraglider Festival of Floats & Costumes)
Saturday, September 12
Paragliding Landing Zone – Tiger Mountain, Issaquah
Issaquah – artEAST, Downtown Issaquah Association, Issaquah Chamber of Commerce, Lake Washington Partners and Seattle Paragliding are partnering to launch the first ever Fantastic Fly-In featuring flying paraglider floats and costumes at the Paragliding Landing Zone on Tiger Mountain Saturday, September 12, 2015, 2:00-7:00 p.m.
Fantastic Fly-In will be fashioned after the 40 year old Coupe Icare, the free flight festival that marks the end of the European summer flying season held each year in the alpine village of St Hilaire du Touvet in France where costumed paragliders and spectators hold demonstrations that are spectacular to watch.
This new Issaquah event is sure to be packed with emotion, audacity, creativity, fantasy, thrills and laughter, and an unflinching passion for flying. Spectators will gather in the Paragliding Landing Zone at the Chirico Trailhead along Issaquah Hobart Road on Tiger Mountain to witness the spectacle of costumed paragliders taking to the skies from 2:00-7:00.   Food trucks will be on site along with a beer garden.
Fliers will launch from Poo Poo Point, one of the premier paragliding sites in the United States and is close to Issaquah. The Chirico Trail leads hikers up to the launch point plus a shuttle takes paragliders up to graceful, grassy, slope launches worthy of world-class paragliding mention as well as the beautiful landing field.
Information:
Hours: 2:00- 7:00 – air parade (prime time for flying is around 5:00).
Parking:
Parking will be available at the Issaquah Community Center at 301 Rainier Blvd South in downtown Issaquah or at Issaquah Christian Church 10328 Issaquah-Hobart Rd SE a half mile north of the Paragliding Landing Zone.
A free trolley will bring people to and from both these parking areas and the Paragliding Landing Zone area between 1:00-8:00.