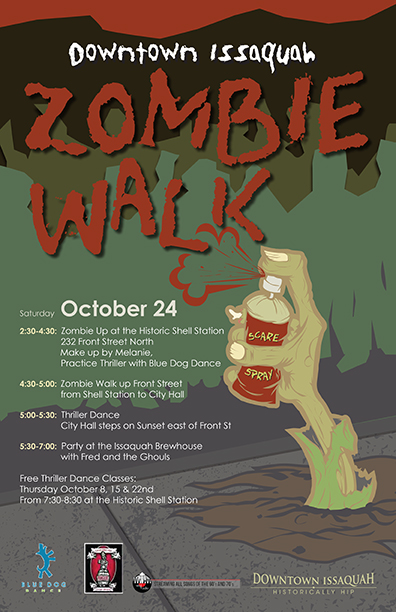 August 27, 2015 – Issaquah. Halloween zombies of all ages will congregate for the sixth annual Downtown Zombie Walk and flash-mob dance to Michael Jackson's, THRILLER! Saturday, October 24
Tom Gutuzzo, the founder of Zombie Walk, said the "hoard" of un-dead will meet at the historic Shell Station from 2:30-4:30 for make-up and other preparations and to practice their Thriller Dance moves.  The official Zombie Walk starts at 4:30 when the zombies devote 30 minutes to attracting the attention of motorists, diners and passers-by on Front Street.  Then at 5:00 the choreographed Thriller flash-mob dance of the un-dead will take over the City Hall steps on Sunset just east of Front Street.  The event is free, open to all ages and zombies of all skill levels.
Blue Dog Dance will do free THRILLER dance classes Thursday, October 8, 15 and 22ND from 7:30-8:30 p.m. at the Historic Shell Stations.  These classes will be hosted by Blue Dog Dance instructor Destiny Jackson.
Zombie Prizes will be awarded in both adult and children's category for most creative costume, scariest costume and best dance moves!   
2:30-4:30 at the historical Shell StationPractice your Thriller Dance steps with Destiny Jackson of Blue Dog Dance Studio
We encourage people to come made up, but for those that need help, basic make up is available for free, or Ultra Zombie make up provided by Illusions by Melanie for $10 per person.
4:30-5:00 Zombie Walk Up Front – historical Shell Station to City Hall stepsThe zombies devote 30 minutes attracting the attention of motorists, diners and passers-by on Front Street before doing their flash mob dance at City Hall.  
5:00-5:30 Thriller Dance at the City Hall steps
After the dance is concluded Zombies can disperse or head over the Issaquah Brew House for an after party including Rogue Dead Guy drink specials .75 off and live music by Fred Hopkins and The Ghouls

Sponsored by Blue Dog Dance, Issaquah Brew House and Vinyl Radio