When:
April 22, 2017 @ 9:00 am – 12:00 pm
2017-04-22T09:00:00-07:00
2017-04-22T12:00:00-07:00
Where:
Historic Shell Station

Contact:
Brenda Devore
425-391-1112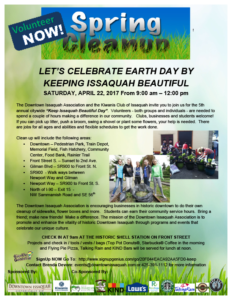 LET'S CELEBRATE EARTH DAY BY KEEPING ISSAQUAH BEAUTIFUL

SATURDAY, APRIL 22, 2017 From 9:00 am – 12:00 pm
 The Downtown Issaquah Association and the Kiwanis Club of Issaquah invite you to join us for the 5th annual citywide "Keep Issaquah Beautiful Day". Volunteers – both groups and individuals – are needed to spend a couple of hours making a difference in our community.   Clubs, businesses and students welcome! If you can pick up litter, push a broom, swing a shovel or plant some flowers, your help is needed. There are jobs for all ages and abilities and flexible schedules to get the work done.
Clean up will include the following areas:
Downtown – Pedestrian Park, Train Depot, Memorial Field, Fish Hatchery, Community Center, Food Bank, Rainier Trail
Front Street S. – Sunset to 2nd Ave.
Gilman Blvd – SR900 to Front St. N.
SR900 – Walk ways between Newport Way and Gilman
Newport Way – SR900 to Front St. S.
North of I-90 – Exit 15 –
NW Sammamish Road and SE 56th
The Downtown Issaquah Association is encouraging businesses in historic downtown to do their own cleanup of sidewalks, flower boxes and more.   Students can earn their community service hours. Bring a friend; make new friends! Make a difference. The mission of the Downtown Issaquah Association is to promote and enhance the vitality of historic Downtown Issaquah through programs and events that celebrate our unique culture.
CHECK IN AT 9am AT THE HISTORIC SHELL STATION ON FRONT STREET
Projects and check in / tools / vests / bags (Top Pot Donuts®, Starbucks® Coffee in the morning
and Flying Pie Pizza, Talking Rain and KIND Bars will be served for lunch at noon.