Issaquah History Pub Crawl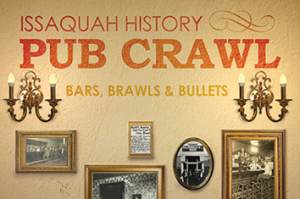 Tickets on sale now for 2017!
Issaquah has an interesting and colorful past of murder, mayhem and prohibition and we want to share it with you. The event starts at the Train Depot then takes you through  Issaquah's downtown establishments each featuring a small cocktail or appetizer, lively narratives and juicy tidbits on the people of Issaquah and times gone by. The event will end at the Historic Shell Station with a drink, chocolates and a souvenir to take home!
The event kicks off at the Train Depot at 6:45 p.m.  The Pub Crawl will commence at 7:00 p.m. sharp and end around 9:00 p.m. This event involves walking outdoors, please wear comfortable shoes and dress accordingly.
This is a popular event and only 30 tickets will be sold. Plan ahead and get your tickets early!  (NOTE: will call only, no paper tickets will be issued).
To purchase tickets click here
There are no upcoming events to display at this time.