Things to do in Issaquah
Play Outdoors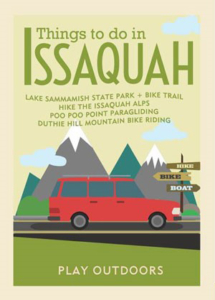 Issaquah Library – kcls.org
The Issaquah Library, a branch of the King County Library System, serves downtown Issaquah and its surrounding communities with programs for children, teens and adults, public meeting space, and access to all the Library System's collections and services.  The Issaquah Library has something for everyone!
Address: 10 West Sunset Way Phone: (425)392-5430
The Center is owned and operated by the City of Issaquah Parks and Recreation Department. Classes include instruction in aquatics, day camps, drop-in activities, health & fitness, pre-school and sports.
Address: 301 Ranier Blvd S Phone: 425-837-3300
Issaquah Jules Boehm Pool –  Download PDF
TheIssaquahParksand Recreation Department owns and operates the Julius Boehm Pool and offers classes and open swim.
Address: 50 Southeast Clark Street Phone: 425-837-3350
The Issaquah Alps include Cougar, Squak, Tiger, Taylor and Rattlesnake Mountains. The Issaquah Alps Trails system was developed and is maintained by IATC. Members serve as advocates as well as hike leaders.
LakeSammamish State Park is a 512-acre day-use park with 6,858 feet of waterfront on Lake Sammamish. A salmon-bearing creek and a great-blue-heron rookery are additional features.
Poo Poo Point on Tiger Mountain is a major metropolitan paragliding flight park and has been an ongoing labor of love. Tiger provides a close-to-home gateway for Seattle residents, impressively, where no other opportunity existed before, to realize their dreams to fly.