Things to do in Issaquah
Shop Local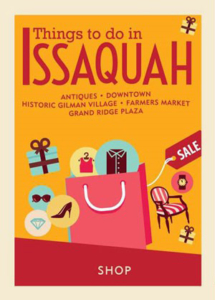 This bike store has been a fixture in Issaquah for over 25 years.  They are recognized as a market leader in the Seattle area and known for their innovative programs such as our jr half-back trade-in program for kids bikes.  For the last 10 years they have been selling Trek and Trek related brands exclusively.  They are committed to helping you find the best bicycle or bike related product available on the market today.
Address: 121 Front St N Phone: 425-392-4588

The DHZ is a perfomance-focused bike shop that is rider owned and operated.
Address: 485 Front St N Phone: (425) 295-7084
The art and craft of making good tea is as complex as wine. Experience Tea has over 100 teas and botanicals right and is always expanding as interesting teas are presented by their tea sources. Experience and learn about the vast spectrum of good quality loose leaf tea in one of their classes.
Address: 195 Front Street North Phone: (206) 406-9838
Grocery store selling produce, meat, seafood & deli items, plus a large selection of beer & wine.
Address: 80 Front Street South Phone: (425) 392-5371
Gilman Village is a specialty shopping landmark for more than a quarter century featuring more than 40 shops and restaurants. Home stores include furniture, kitchen, garden, bed and bath linens, and accessories. Fashion stores include women's and men's clothing, shoes, leather, jewelry and accessories. Restaurants feature BBQ, Italian, Greek, American and Indian cuisine.
Illuminate Lighting is the newest addition to the historic Issaquah Front Street retail shops.  Their lighting showroom showcases beautiful and high end lighting.  Illuminate Contracting is a full service electrical contracting firm known for its reliability. With over 50 years of experience in the electrical industry, Illuminate Contracting serves the commercial, residential, industrial and institutional community.
Address: 147 Front Street North Phone: (206) 571-58523

Previously Mills Music, this Music Instrument business ensures the quality advice, equipment, support, and services that are right for you.Whether you play woodwinds, orchestral string, brass, percussion, guitar, or keyboard instruments, you can count on Mills Music for the best value and service in the business.
Address: 170 Front Street North Phone: (425) 392-1000
Rewind Clothing Store – on facebook

Rewind Clothing is a buy sell and trade store.  They have gently worn clothing and awesome handmade gifts by local artists.
Address: 485 Front St N Phone: (425) 391-0576
This intentionally small shop produces constantly changing collection of shirts and hats with perfect words, bright color, and damn fine graphic design, all printed in tiny batches to keep the delight alive.
Address: 70 East Sunset Way Phone: (425) 503.4621
So There carries fun, handmade and local gifts for everyone in your life including custom letter press products, and custom stationary designs.
Address: 195 Front Street North Phone: (425) 281-9083
Locally owned and operated, Superior Seconds sells, trades and consigns quality used sporting and exercise equipment
Address: 96 Front St S Phone: (425) 654-4340
Locally owned family run stores carries specialty matts, linens, adjustable bases and pillow
Address: 485 Front St N Phone: (425) 295-7684
Thrive Natural Products – drbizzy.com
The Naturopathic Clinic of Issaquah has settled into their new location on Front Street andprovideThrive Supplements and Wellness Products, exclusive, top-of-the-line wellness products for you and everyone in your family.  This Naturopathic Clinic of Issaquah is ready to help you find the best products and remedies.
The newest store to hit downtown Uphill Running is having their grand opening April 13.  They are a blend of Southern Hospitality and Pacific Northwest Scenery, and one hell of a Specialty Running Store.  Uphill is hosting Saturday morning and Tuesday evening trail runs.
Address: 100 Front Street S, Ste A Phone: (425) 391-2430